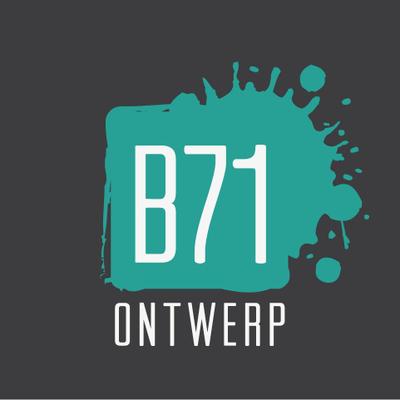 Every revolution has its artists, visualizing the ideas of those with the new and unique ideas. Storm Thorgerson designed the iconic Dark Side of the Moon album cover by Pink Floyd, The Who's Who's Next and well into this century with covers for Muse, Biffy Clyro and the Mars Volta. Closer to my generation Spike Jonze directed the iconic videos most music fans still remember like Buddy Holly by Weezer, Praise You by Fatboy Slim and of course that awesome Sabotage Video by the Beastie Boys. Although he doesn't want too much time in the spotlight, our little revolution taking place here also has one man behind it who without you knowing designed many of the labels and logos you noticed in the shops and bars. The chances are fairly high that one of the bottles of Dutch Craft Beer you've tried had a label glued on it designed by Bob van Dijk, the creative mind behind B71. Since we here at the blog try to chronicle every part of Dutch Craft Beer culture, we had to devote some words to his work, but his answers were passionate and detailed, so prepare for a long but interesting read.
Humble beginnings Bob's love for beer started like so many others: with Belgian dubbels and tripels. He was working in advertising already when a long time ago he bought a poster with Dutch beer labels and thought to himself: I can do better than this. It was a message on twitter that brought him the breakthrough he was looking for when he read that Breugem brewery was looking for volunteers. It was chance he had to take so he got into his car and drove to Zaandam to speak to Patrick Breugem. He went on to restyle the labels and ever since he has been volunteering for them, even through some of the tough times they went through.
Ruud van Moorst of Eem was helping Patrick with brewing at that time while he was also working on making Tasty Lady, which Bob made the label for. It was at this time that he decided to jump into the whole in the beer label market, which turned out to be a great move. This led to a year-and-a-half of networking, and we can all agree that work-related beer festival visits must be really hard to do. He realized that there is a lot of demand for a new look at beer labels.
Borefts Through the internet how got into contact with Paul and Jasper, the guys running online beerstore Biernavigatie. Their first meeting was at the Borefts festival where Bob saw there was a lot more going in the wonderful world of craft beer. He noticed that at that time, and this is only a few years ago, all the focus was on only the beer. The labels on the bottles… well, that wasn't that important. Often it was just typed together in Word and glued on the bottle with the minimum of information. Hiring a designer costs a lot of money and especially when you just start that's something brewers will try and save money on. What Bob did was offer very reasonable prizes , great service and above all passion, he knew about the beer behind the label. This lead to starting his own company: B71.
Meeting Peter van der Arend Bob was quietly drinking a beer one day when someone approached him about maybe designing a beer T-shirt. This man was Peter van der Arend of 't Arendsnest who called Bob again later that he really wanted a shirt for a beercruise. By then he knew how Peter was and was bold enough to ask him who designed the logo of 't Arendsnest… This was around the time this pub was about to hold its 12.5 year anniversary and Peter was thinking of a new logo and guess who got the gig… And here the Facebook conversation stopped for a while. Reason: he was busy talking to a brewery from Belgium and one in Germany for some work. Yes, B71 designs have crossed the borders. Let's continue with his story: Soon after the Arendsnest job he was asked to design some one-off labels for other breweries, Jopen included. Jobs kept coming in after that, the most satisfying are the ones where he can design the entire label but also design everything else including in some cases the actual logo, which he feels is the both the most fun but also the most difficult.
More than designing It didn't take too long to figure out that the national beerscene is small and made up of people with a common goal who help each other wherever they can instead of competing. Bob really feels it's a privilege to be part of this. And his role is not just of a designer, but also as fan and even a brewer when he brewed with the Tasty Lady Team and Biernavigatie's own Alphy IPA. He really wants to brew his own beer now with the help of Patrick Breugem and Ruud van Moorst but is as of yet undecided what the beer should be. Apparently for Bob designing a beer is harder than designing a logo. The spectator As a now important peg in the network of Dutch Craft beer Bob has a front row seat from which he can observe all the changes going in. And this is good for business. The smaller, and even the home-, brewers are aching for more brewing capacity and are easily getting rid of their beer. And it's at this point that they feel the need to get a good label, logo or the entire design. And when this is done the next items follow: the glass, the coaster, the boxes, the tap handles, flyers and a label. And this is usually when they call B71. It does happen that the will is there but that financially the plans are too far away still. Bob isn't adverse to try and find a way to help out in any way he can. Even if it's just advice rather than a label. But all the contacts have eventually led to something good, another example of why he feels the Dutch Beer Scene is so great. The way he works is based on talking to the brewers about what they want. Often they have some idea of what they want but no idea how to word it. Bob asks them to browse the web to look for some examples and then comes up with 2 or 3 sketches. They usually have a clear predilection for one of them and then he starts to visualize their ideas. So the final design is one design in which the customer has had its own say. His challenge is making something that you like, not what he himself likes.
The Big One
There was however one big job waiting for him, one that has really put him on the forefront and that was designing the new Jopen logo. Michel Ordeman and Lydian Zoeteman of Jopen had put B71's name forward in talks with an ad agency who called him. He got a blank sheet of paper, told his wife he was going to be absent a little more than usual for two weeks and starting designing for a chance that might be a once in a lifetime opportunity. It was an emotional moment when he saw his design at the Jopening. His design is now on the labels of Holland's biggest craft brewer. The Jopen gig has led to jobs coming in from Germany, Belgium and recently even Spain and the U.S. He has lost count of the number of breweries he has now done work for. And he doesn't care, every brewer big or small deserves equal attention and he loves to help.
Beer shirts
But as if that wasn't enough he started a beer T-shirt line with Paul and Jasper from Biernavigatie called www.craftbeershirts.nl. It is still in the startup phase and needs to be polished but it has potential. He started the shop because it was a dream of his for a while but strangely enough didn't exist yet in Holland. But this country isn't the only one they are aiming for. The T-shirts are diverse, bold, quality and limited! So be quick to get your body into one of those and wear a genuine B71 article, so you can surround yourself in the design of the man who quietly designed much of the Dutch Craft Beer Revolution.
Just some of the B71 Beer Logos